Virtual Mediation
Mediation Is Easy With New Era's ADR Platform
Settle disputes with experienced neutrals through virtual mediation on the New Era platform.
How It Works
Disputes happen. Virtual mediation is a convenient, inexpensive way forward.
Work with the most experienced mediators in the industry without the hassle of commuting to mediation or anxiety of waiting in conference rooms. With a flat fee service and an end-to-end digital experience, New Era makes mediation easier for mediators, parties, and attorneys.
We'd love to show you how.
Create A Free Account
Once you have an account, create a case, upload documents for your mediator, and easily coordinate schedules. Our platform takes care of the process so everyone can focus on the important things in finding middle ground.
Match With An Experienced Mediator
Connect with a highly experienced New Era neutral and schedule your pre-mediation conference to move the dispute forward.
Securely Import Case Details For Mediator Review
Collect and securely upload your documents and mediation statement using the platform — have confidence that only your neutral can see this data.
Streamline the Mediation Process
Fast-forward mediation with a fully-digital platform that simplifies every step of the process with convenient features and capabilities.
How do I get the other party on board?
New Era ADR is a neutral platform — so everyone benefits. Find out how to prompt the other party to handle the dispute through the New Era platform.
A more convenient way to handle virtual disputes.
Faster, smoother, simpler. With everything in one place, New Era's ADR platform streamlines virtual mediation.
Reduction in time spent coordinating with other party
End-to-end platform handles everything
Secure platform for protecting your case documentation
Who Uses Virtual Mediation
A solution for attorneys, business owners, and neutrals.
Whether you're a business owner looking to speed up the mediation process or an attorney seeking better alternatives for your clients, the New Era platform makes virtual mediation easy.
For Executives
Running a business is hard work and resolving disputes with vendors and partners can be even harder. Virtual mediation is a flat-fee service that reduces costs and speeds up the process so you can get back on track — fast.
For Attorneys
When you went into law, huddling around conference rooms wasn't what you had in mind. Skip the hassle and get back to doing what you love — protecting your clients and providing them with the best possible service.
For Neutrals
Your inbox wasn't designed for managing mediation caseloads. Simplify your caseload management with a virtual mediation platform that helps you review and resolve mediations efficiently.
Proactive Risk Mitigation
Update Your Contracts Now
Don't wait until you're in the middle of a dispute to act. It's easy — and free — to update your contracts and reduce your organization's risk today.
Virtual Mediation Features
Store all of your documents in one secure place.
Put away the filing cabinets and storage trays. Most of your documentation is already virtual. With the New Era platform, you can upload your documents, draft and review your statements, and store everything in a secure, cloud-hosted server.
Virtual Mediation Features
Schedule pre-mediation conferences and meetings in the app.
Ditch the miles-long email chains with screenshots of calendars and bulleted lists of available time slots. Use the New Era platform software to quickly identify and schedule meetings, helping speed up the mediation process and get you to a resolution sooner.
Digital Mediation with Option For A Binding Resolution
Guarantee a final resolution even with no settlement.
Sometimes mediation doesn't lead to a settlement. Get to a final resolution by opting to move the case straight to expedited arbitration and obtain a legally-binding resolution.
Proactively plan for the aftermath of mediation and reduce time and cost investment with virtual mediation + binding decision.
Insights
Stay Up-to-Date With The New Era ADR Blog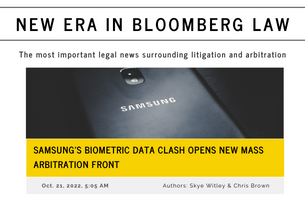 In this recent article published by Bloomberg Law, journalists Chris Brown and Skye Witley explore mass arbitration. You can also view the article here, Samsung's Biometric Data Clash Opens New Mass Arbitration Front Oct. 21, 2022, 5:05 AM A legal tactic of flooding...
Simplify dispute settlement with a more convenient platform.
Avoid an arduous journey through mediation. Start your virtual mediation with the ADR platform today.