ADR Platform
Move Past Disputes Fast With A Digital ADR Platform
Accelerated alternative dispute resolution starts here.
ADR Platform Overview
It's easy to get to a resolution.
Fast. Secure. Fair resolutions of your disputes.
Use our end-to-end platform and experience the first true alternative dispute resolution. Resolve disputes more effectively, and reduce the costs, time, and distractions of endless litigation.
Efficient Technology Platform
Speed up dispute resolution with an end-to-end ADR platform that connects parties, lawyers, and neutrals with a fully digital solution.
Fair, Neutral Resolutions
Put your case before a highly experienced, certified Neutral and get fair resolutions that objectively address the facts and their application to the law.
Effective Resolution Tools
Upload documents. Schedule meetings. Bypass the procedures that draw out disputes unnecessarily and get to a resolution faster.
We're connecting people to neutral parties and speeding up dispute resolution.
Whether you're in the midst of a dispute or want to protect yourself against the unnecessary risks of potential disputes, New Era ADR helps you get to better.
Our ADR Solutions
File a claim. Resolve a dispute. Use ADR technology.
Use New Era ADR for virtual mediation, arbitration, and resolution planning.
Virtual Mediation
Settle your disputes and minimize disruptions with an easy virtual mediation solution.
Virtual Mediation with Binding Decision
Drive towards settlement while ensuring rapid resolution with a legally-binding decision in under 30 days.
Digital Arbitration
Present your evidence and make your arguments to an experienced neutral party and get a legally binding resolution.
Expedited Digital Arbitration
Accelerate resolution of your standard case with a simplified arbitration process that helps you move past your dispute fast.
Free Resolution Planning
Update your contracts with free tools and mitigate future dispute risk.
Make Dispute Resolution Simple
Simplify disputes with an easy-to-use platform.
Let's agree. Paper belongs in the past.
When you're in a dispute, the last thing you want to do is exchange paper documents, spend your time coordinating schedules via lengthy email chains, and wasting time traveling to and from a physical mediation or arbitration site.
Our ADR platform simplifies the challenges of disputes, paving the way for fast, efficient resolution.
Upload Your Documents
Say goodbye to piles of paperwork. Upload all of your documents into one secure location for easy reference and verification.
Schedule Meetings in App
Efficiently manage time to move mediation and arbitration along faster — so you can get a resolution sooner.
Tell Your Story
Win or lose, with our ADR platform you get the chance to tell your story, present your case, and get a resolution, so you can get back to business.
Future-Proof Your Contractual Clauses
It might sound dull, but updating the language in your contracts is the best way to protect your business from the risks of future litigation.
Meet The Neutrals
Neutrals bring clarity and transparency to the chaos of disputes.
These leading objective voices are some of the most highly-experienced and qualified mediators, arbitrators and judges around. While any neutral can use the ADR platform to manage their cases, only the most extraordinary Neutrals are assigned New Era cases.
Insights + Resources
Read The Latest From New Era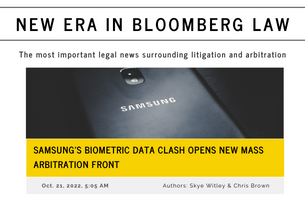 In this recent article published by Bloomberg Law, journalists Chris Brown and Skye Witley explore mass arbitration. You can also view the article here, Samsung's Biometric Data Clash Opens New Mass Arbitration Front Oct. 21, 2022, 5:05 AM A legal tactic of flooding...
Get to a resolution sooner with the ADR platform.
Tell your story. Resolve your dispute. Get back to business.